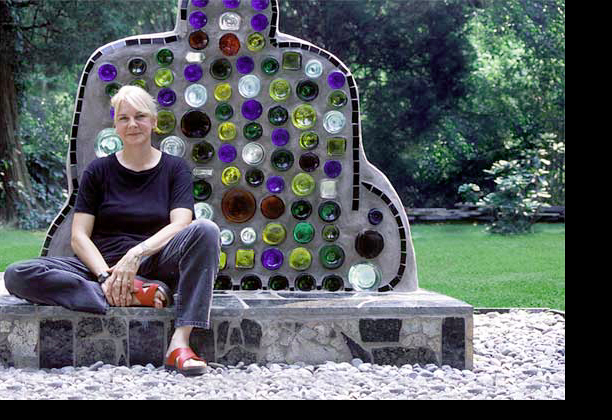 Jacqueline worked with masonry as an apprentice in the NYC Local Union of the Bricklayers and Allied Crafts in the late 1970s. Under the tutelage of her father, Joe, she scaled Manhattan's skyscrapers learning to repair damaged stone, brick and mortar. In 1981 she earned full journeyman mechanic status and worked in the trade on both coasts for 7 years.
Some years later, she and her husband moved to Lindenwold, a town in Southern New Jersey, bought an old Victorian home and picked up her trowel again to adorn the property with structures uniquely constructed of glass bottles, tiles, stone and mortar.
Jacqueline became intrigued with glass bottle construction by first reading about and then visiting Grandma Prisbrey' s bottle village in Simi Valley, California -- built in the 1950s by the sexagenarian Prisbrey from found bottles, sand and cement. Jacqueline was moved to build her own bottle structures after visiting the village.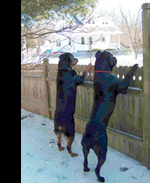 Another inspirer was early California outsider artist and mason, Simon Rodia whose Watts Towers awakened in her the vast creative potential of discarded and recycled materials, but, it was when she walked the nearby streets of Philadelphia that she discovered an artist who became a true living inspiration for her. She had encountered the public wall art and vibrant spirit of the prolific mosaic master, Isaiah Zagar, who then became a friend and mentor.
From those varied roots, Jacqueline developed her own vision with bottles, smashed tile, mirror, stained glass, stone and mortar. Her creative inner eye combined with her masonry skills, gave birth to unique bottle walls, benches, mosaic tile floors, birdbaths, plaques, murals and paths.
Her house and surrounding one acre property is now the canvas, inside and out, for her work. Jacqueline's work with materials and light expresses an inner realm, manifesting nowness; a vision of calm sanctitude.
She lives in this house with her husband George, her Rottweiler Stella and her Cane Corso Basso.